Humans of Tuggeranong Exhibition Launch
On Monday 15 April, YWCA Canberra Clubhouse launched its Humans of Tuggeranong exhibition at the Tuggeranong Arts Centre, in celebration of 2019 ACT Youth Week.
With the support from a 2019 ACT Youth Week grant, the Clubhouse commissioned a young aspiring photographer to co-facilitate the Humans of Tuggeranong photography program and mentor three young people studying a double-major in photography at Lake Tuggeranong College. Based on the original Humans of New York, the Humans of Tuggeranong exhibition was a collection of portraits and profiles of Tuggeranong community members.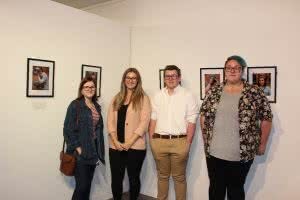 At the launch, Annie, the YWCA Canberra Clubhouse Coordinator formally welcomed guests by acknowledging the traditional owners and custodians of the land and paying respect to Aboriginal and Torres Strait Islander women. In her opening remarks, she spoke about how the purpose of the program was not only to grow the personal and professional development of the young photographers through increasing their confidence and skills in photography, communication, and event organisation but to also capture insight into the unique people of the Tuggeranong community. She spoke about how everybody we pass in the street has a life and a story as complex as our own. Humans of Tuggeranong offered an opportunity for these stories to be told. Through photographs and a few short sentences, Humans of Tuggeranong allowed the Tuggeranong community to share and connect, whilst celebrating the talent and achievements of the young photographers who made it possible.
ACT Government Minister for Kurrajong and the Minister for Children, Youth and Families Rachel Stephen-Smith then spoke about ACT Youth Week and the importance of celebrating young people. She commended the YWCA Canberra Clubhouse for creating the Humans of Tuggeranong as an opportunity to further develop young people's skills and interests, connect them with their local community, and publicly celebrate and showcase their talents.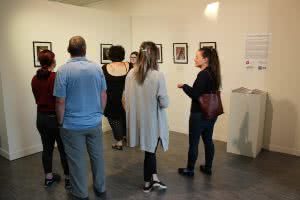 Co-facilitator Alistair, and Rose who was a participant of the program, then spoke about their experiences of Humans of Tuggeranong. Each expressed that this project challenged them and extended their teaching and photography skills, as well as their interpersonal capacity.
The exhibition featured 18 portraits in total, including the three young participants, program facilitators, supporting teachers and youth workers, and students from the CIT Return to Work for Women program.
Thank you again to the 50+ people who attended the Humans of Tuggeranong exhibition launch and their support for the talents of the young participants.
The exhibition ran from Monday 15 April through to Saturday 27 April at Tuggeranong Arts Centre.
YWCA Canberra Clubhouse is excited to continue creating meaningful programs and opportunities for growth for young people across the year.
For more information about the YWCA Canberra Clubhouse, or to get involved see the website here.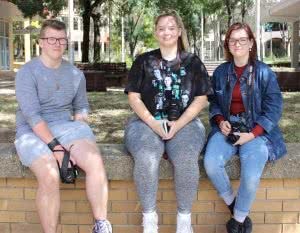 The YWCA Canberra Clubhouse is a free, out of school learning space that provides over 300 young people, aged 10 – 18 in the Tuggeranong region with access to the latest technology, as well as mentoring and support to grow their skills in science, technology, engineering, arts and mathematics. The program exists to deliver better socio-economic outcomes for the Tuggeranong community and better STEAM employment outcomes for women and young people from Aboriginal and Torres Strait Islander and culturally diverse backgrounds. With the essential support from our cross-sector partners, volunteers, Tuggeranong community, and our dedicated staff, our members have access to cutting-edge technology, industry mentors and a supportive environment that fosters their creativity and independent learning almost every week of the year.
At the Clubhouse, members can explore areas such as coding, 3D printing, photography, videography, visual art, green screen effects, music, virtual reality, and more. The Clubhouse also offers a free school holiday program during each school holiday period.