School Holiday Program
YWCA Canberra Clubhouse offers a free school holiday program to all Clubhouse members during every school holiday break. Clubhouse membership is free to any young person aged 10 – 18 and the sign up form can be found below.
The Clubhouse is passionate about providing learning experiences for its members that cover the full range of science, technology, engineering, arts, and mathematics fields. The Clubhouse is also proud to collaborate with the YWCA Canberra Youth Engagement Team and introduce young people to the many services we offer.
.
.

Spring School Holiday Program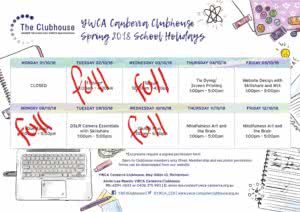 This spring school holidays, participants can engage with an array of creative, fun, and educational activities and excursions. Download the flyer below to view the full program of events. Download, complete and return the Clubhouse sign up form to attend.
For more information, please contact the Clubhouse Coordinator, annielea.rowley@ywca-canberra.org.au.
Download: 2018 Clubhouse Membership Form (PDF)
Download: Spring School Holiday Program Flyer (PDF)
.
.
.

Mindfulness Art and the Brain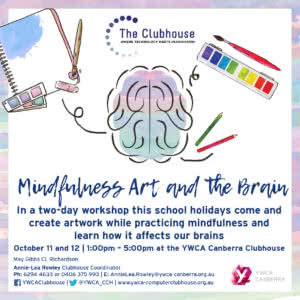 In this FREE two-day workshop, we will explore the relationship our brains have with mindfulness practices. We will learn about the different structures within the brain and how they can be manipulated with mindfulness.
Moving on from this, we will be looking at how creating art and be used to practice mindfulness and the proposed health benefits. Participants will work to create their own piece of artwork or collection of artworks. This could include a mindfulness colouring book, family crest, galaxy sky, mandala, tattoo design, and more!
Contact the Clubhouse Coordinator for more information and to register your interest to attend!