YWCA Canberra Clubhouse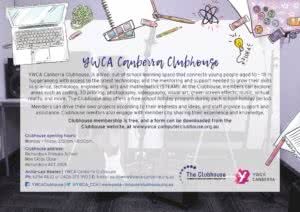 YWCA Canberra Clubhouse, is a free, out-of-school learning space that connects young people aged 10 – 18  in Tuggeranong with access to the latest technology, and the mentoring and support needed to grow their skills in science, technology, engineering, arts and mathematics (STEAM).
At the Clubhouse, members can explore areas such as coding, 3D printing, photography, videography, visual art, green screen effects, music, virtual reality, and more. The Clubhouse also offers a free school holiday program during each school holiday period.
Members can drive their own projects according to their interests and ideas, and staff provide support and assistance. Clubhouse mentors also engage with members by sharing their experience and knowledge.
The Clubhouse learning approach is designed to empower youth from all backgrounds to become more capable, creative, and confident learners. The Clubhouse really shows that young people learn best when they can work on projects that they are passionate about and actively engage in designing, creating, and inventing – not just passively receiving information.
Founded in Boston in 1993, the Clubhouse Network now extends across the world, providing 25,000 youth per year access to resources, skills and experience to help them succeed in their careers, contribute to their communities and lead outstanding lives.
Clubhouse opening hours:
Monday – Friday, 3pm – 6pm (during school terms)
Clubhouse address:
Richardson Primary School
May Gibbs Close
Richardson ACT 2905
Watch our video to see some of the highlights from the past year.
2018 YWCA Canberra Clubhouse Membership Forms 
Download: YWCA Canberra Clubhouse Membership form (Word)
Download: YWCA Canberra Clubhouse Membership form (PDF)
2018 YWCA Canberra Clubhouse Flyer
Download: 2018 YWCA Canberra Clubhouse Flyer (PDF)
.                        
2017 Clubhouse Impact Report
Download the 2017 Clubhouse Impact Report to meet our Clubhouse members, hear from our Clubhouse Ambassadors and learn more about our objectives and outcomes.
2016 Clubhouse Impact Report
Download the 2016 Clubhouse report to find out how we've increased our membership to more than 180 members, focused on outreach and engaged the broader community.