Humans of the Clubhouse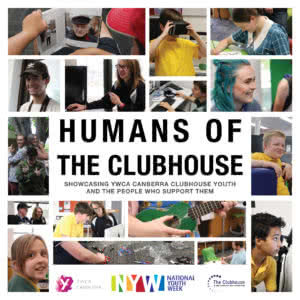 To celebrate National Youth Week 2018, the Clubhouse is launching its 'Humans of the Clubhouse' project. National Youth Week runs from 13-22 April this year, and provides an opportunity to celebrate young people aged 12-25 across Australia.
The Humans of the Clubhouse project will showcase Clubhouse members, as well as the community of people who support them. The project is based on the 'Humans of New York' project, and will include portraits and interviews with Clubhouse members, staff, and mentors, celebrating the unique skills and attributes that each of them bring to our program.
The exhibition will be open 16 – 30 April at the Tuggeranong Hyperdome exhibition space across from the Best Friends pet store.
For more information please contact the Clubhouse Coordinator, annielea.rowley@ywca-canberra.org.au
Newsletters
Recent Tweets
Here are some snaps from the first day of the 360 Initiative on Monday. This unique program facilitates and provide… https://t.co/SCZmQ3Tztr

4 hours ago

Check out these amazing designs that were created Tuesday afternoon at the 360 Initiative. The designs are aimed to… https://t.co/ZmVj5UxSGs

4 hours ago
Join us at @YWCACanberra 's annual 2018 Great Ydeas Innovation Breakfast to mark World YWCA Day, celebrate women in… https://t.co/h4KJjJsrnp
4 hours ago
@RobogalsCBR invites girls aged 5-15 in Canberra to join their FREE Robogals Science and Engineering Day on Saturda… https://t.co/vatTbmVx5G
3 days ago
RT @AnnaWilson1973 : Guess where I was today? Looks awesome, congratulations!👏👏👏 https://t.co/VygIUHfuHD
5 days ago
Follow @YWCA_CCH