In term four the YWCA Canberra Clubhouse is hosting a program called What's Your Reality – a journey through virtual worlds.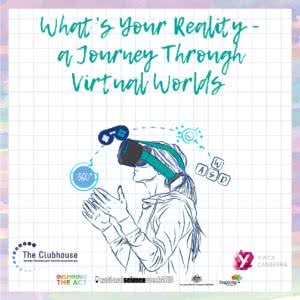 The What's Your Reality program is a collaborative program with ACT Parks and Conservation, Calwell High School and Parallel Parks. Participants involved in this program will work with ACT Parks and Conservation and YWCA Canberra Clubhouse to brainstorm, film, and storyboard the post production for up to four virtual reality experiences within Canberra Nature Parks. These first-hand virtual reality experiences will be uploaded onto a dedicated YouTube channel that will be used by people living with a disability. so they can experience some nature activities that they otherwise might not be able to.
Parallel Parks and Tidbinbilla Nature Reserve
Parallel Parks is  is a bold initiative with a big vision: to make the world's national parks accessible to all. As a wellbeing organisation, New Horizons is well aware of the health benefits of adventure and being connected to nature. Sadly, accessing wilderness, let alone the world's greatest natural wonders, isn't possible for everyone. More than a billion people have some form of disability, with as many as 190 million adults having significant difficulty functioning. That's at least 7x Australia's population that may never get to experience the benefits of being immersed in nature.
Their mission is to harness the power of virtual reality to remove barriers and create opportunities to explore the world that millions could once have only dreamed of.