The Clubhouse has engaged a new Mentor this term to deliver a game creation program called Game Design Unplugged. The Game Design Unplugged workshops will teach participants about the processes involved in concepting, designing and play testing, while guiding them to make their own card or board game!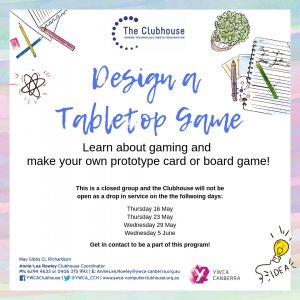 Delivered over four after-school sessions during term two, participants will:
learn about basic game elements
learn about Bartle's 'taxonomy of players' model
brainstorm ideas based on the given theme
make prototypes and test it amongst the team
learn how to write the game's rules
practice giving and receiving feedback
play test the groups' games
review, redesign, and replay their game
play test some more
learn where to go to for help moving forward
attend a celebration excursion to Game Plus to see other game developers in action and play test their games!
If your child is interested in participating in this program, please get in contact with the Clubhouse Coordinator, AnnieLea.Rowley@ywca-canberra.org.au. Here are the dates for the program, and please note that this will be a closed group and the Clubhouse will not be open as a drop-in service.
Thursday 16 May, 3:00pm – 5:00pm
Thursday 23 May, 3:00pm – 5:00pm
Wednesday 29 May, 3:00pm – 5:00pm
Wednesday 5 June, 3:00pm – 5:30pm