Create a colouring page of an iconic Tuggeranong landmark and be in the running to win one of two $100 gift vouchers!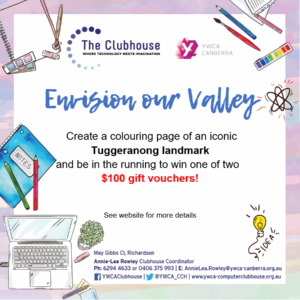 YWCA Canberra Clubhouse in collaboration with Nicole Lawder, the Liberal Member for Bindabella, hosted a colouring page competition to show Tuggeranong pride! The two winning entrants will be awarded a $100 gift voucher at the ACT Legislative Assembly and their designs will be used in a colouring competition at SouthFest. SouthFest is a new festival on the 24 November 2018, from 11am-6pm that will bring life into the streets, laneways and lake foreshore of the Tuggeranong Town Centre.
Terms and conditions:
Entrants must be a YWCA Canberra Clubhouse member.
Entrants must fall within one of two age categories, 10 – 14 years or 15 – 18 years.
Designs must be recognisable as somewhere/something specific to the Tuggeranong region (cannot be of a person).
Designs must have simple lines and be easily used as a colouring page.
Entrants must give permission for their design to be used in any way by YWCA Canberra Clubhouse and the Office of Nicole Lawder.
Entries must be digitally emailed with the attached entry form to the YWCA Canberra Clubhouse Coordinator by 5:00pm Friday 26 October.
Entrants must be willing to participate in a small afternoon tea at the ACT Legislative Assembly for an award presentation, date to be confirmed (only the winning entrants will attend this event).
To enter, please complete the entry from and email to the YWCA Canberra Clubhouse Coordinator by 5:00pm Friday 26 October, annielea.rowley@ywca-canberra.org.au.