Decoding Secret Messages with the Sphero SPRK+ Coding Robot Ball
The YWCA Canberra Clubhouse learning approach is designed to empower youth from all backgrounds to become more capable, creative, and confident learners. Each afternoon, Clubhouse members can engage in activities that focus on core skill development in the areas of science, technology, engineering, arts, and mathematics (STEAM) fields, as we aim to deliver meaningful learning outcomes for members. These skills include critical thinking, problem solving, communication, leadership, creativity, innovation, and teamwork. The coding robot Sphero SPRK+ is one tool that helps develop these skills in an innovative and fun way!
Sphero SPRK+ is a see-through robot ball toy that makes learning to code a fun and energetic activity for young people. This robot was chosen for several reasons, being its durability, variety of coding programming, and opportunity for learning. The SPRK+ is shock proof and can even be submerged into water which allows Clubhouse members to learn and play without worry of breaking the robot. This robot also has 3 different types of coding programming, including block based, drawing, and JavaScript, making it perfect for members of all ages and knowledge bases. These options make it very easy for members to progress through difficulty. The SPRK+ can be programmed with the Sphero Edu app which offers a wide variety of resources for ready to use learning experiences.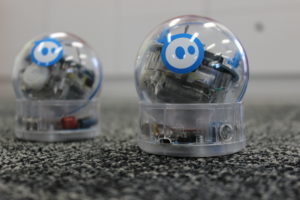 This week Clubhouse members explored the many 'activities' available on the app and website. Activities have been developed by Sphero and the community with lesson plans, videos, information, instructions, and some even have pre-coded programs ready to learn with and use. We chose an activity about Morse Code. In this program, Clubhouse members were able to learn about the history of Morse Code, create and execute a program using the Blocks canvas, and decode messages in Morse Code. In this program, the Sphero made sounds and flashes to represent different letters. A couple of our members used the coding blocks to write a secret message and the other would try and de-code the message. One of our members spent a dedicated amount of time to write a joke!
There are so many activities available on the Sphero Edu App that make learning about coding easily accessible, fun, interactive, and incorporates teamwork. The Clubhouse is very excited to continue to explore the many opportunities for learning that the Sphero SPRK+ and Sphero Edu app offer!
The Clubhouse is passionate about offering an inquiry based model of learning where members are encouraged to explore their interests while incorporating STEAM skills through their projects.
Every day you can stay updated on all our highlights by keeping an eye on our Facebook and Twitter pages. You can also read our blog and subscribe to the YWCA Canberra Clubhouse quarterly newsletter!