.
To celebrate National Reconciliation Week 2018, YWCA Canberra Clubhouse is hosting a screening of, and creative workshop responding to, the 2009 film adaptation of Bran Nue Dae courteously of the National Film and Sound Archive of Australia.
Bran Nue Dae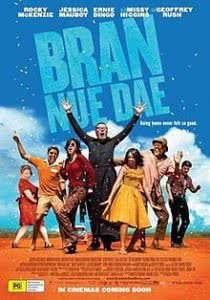 Bran Nue Dae is set in Broome in the late 1960s. It tells the story of Willie, a young man who's almost grown up. He spends his days happily fishing and hanging out with his friends and his girl, Rosie. Willie's mother, Theresa, has other ideas about Willie's future – she wants Willie to pursue a religious path. She sends him off for another year of schooling on a religious mission in Perth.
Willie is a prefect at the mission, and Father Benedictus has taken Willie under his wing. Willie does something rebellious to protect his friends, and Father Benedictus punishes him. Willie runs away from the orphanage, determined to make his way back home to Broome and Rosie.
On Willie's trip home, he meets Uncle Tadpole, who knows Willie's mother. Willie convinces Uncle Tadpole to help him get home. Uncle Tadpole in turn convinces a couple of unsuspecting hippies, Annie and Slippery, to take them 'just up the road' to Broome. A hilarious 2500-km journey through the beautiful landscape of Western Australia follows.
Reconciliation Australia has recommended Bran Nue Dae for viewing to commemorate National Reconciliation Week 2018. Bran Nue Dae has an Australian Classification rating of PG (parental guidance) as it contains mild violence, sexual references and coarse language.
National Reconciliation Week
These dates commemorate two significant milestones in the reconciliation journey— the successful 1967 referendum, and the High Court Mabo decision respectively. National Reconciliation Week (NRW) is a time for all Australians to learn about our shared histories, cultures, and achievements, and to explore how each of us can contribute to achieving reconciliation in Australia. Reconciliation must live in the hearts, minds and actions of all Australians as we move forward, creating a nation strengthened by respectful relationships between the wider Australian community, and Aboriginal and Torres Strait Islander peoples.
This year during National Reconciliation Week, Reconciliation Australia invites all Australians to learn more about Aboriginal and Torres Strait Islander cultures and histories, to share that knowledge and help us grow as a nation. "Don't Keep History A Mystery: Learn. Share. Grow" explores history hidden just beneath the surface, ready and waiting to be uncovered. This National Reconciliation Week learn more about the Australian story by exploring the past, learning more about Aboriginal and Torres Strait Islander histories and cultures, and developing a deeper understanding of our national story.
To attend, please download and return the Clubhouse membership form. Please return all forms to the Clubhouse Coordinator Annie Rowley, AnnieLea.Rowley@ywca-canberra.org.au. Clubhouse membership is free to any young person aged 10 -18.
Bran Nue Dae Screening
Date: May 29 2018 | Time: 3:30pm – 6:00pm
Bran Nue Dae Creative Workshop
Date: May 30 | Time: 3:00pm – 6:00pm
Download: 2018 YWCA Canberra Clubhouse Membership Form (PDF)
Download: 2018 YWCA Canberra Clubhouse Membership Form (Word)